If The Chair Fits
So, you've stumbled across our website! You probably know a thing or two about Herman Miller then, the esteemed American furniture manufacturer who's earned the rightful title as the pioneer of smart offices. Maybe the iconic Aeron chair, the world's bestselling office chair, brought you here. Or your chronic back pain that has made focusing at work a daily challenge. In either case, welcome to Pergo, the exclusive authorized Herman Miller retailer in Thailand. If you are looking for a work chair that's the perfect fit for you, you have come to the right place.
At Pergo, we are serious about sitting. In today's age, more people spend more hours working at a desk than ever before. That's why it's important to find a chair that will support you, heighten your comfort, promote your posture and spinal health, as well as optimize your productivity in the workplace.
With our Try-A-Chair program and Find-A-Chair questionnaire, we make shopping for Herman Miller products easy. However, if you're still unsure about which chair to get, or if you're torn between two, read our guide below to help you decide.
Say 'Yes' to Aeron if…
You're searching for a chair with a fascinating design story, would prefer something classic, or if you'd simply like to play it safe. The Aeron chair is probably the most versatile option as it's impossible to go wrong with the world's bestselling office chair. Launched in 1994, Aeron demonstrated a pioneering step in ergonomics and material innovation and changed people's perception of what an office chair could be. It is the most recognizable chair, used and loved by professionals in every industry.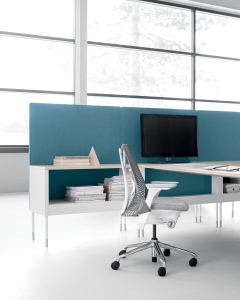 Swipe right for Sayl if…
You are a creative who wants to experience the magic of Herman Miller's ergonomic seating without breaking open your piggy bank. The Sayl chair's unique Golden Gate Bridge-inspired back makes it a favorite among designers, entrepreneurs and the younger crowd. Designed by Yves Béhar, the Sayl chair is everything you can expect from a Herman Miller office chair: beautiful design, first-class ergonomics, elegant engineering and respect for the environment.
Go with Mirra 2 if…
You want an easy-to-adjust, personalized ergonomic chair that comes in a variety of colors and moves with you like your own shadow. Mirra 2's selling point is its mirror-like ergonomics technology: When you sit, the seat and back adapt to you instantly with dynamic surfaces that respond to your slightest movements and simple, intuitive adjustments that fine-tune the fit. The designers from Studio 7.5 also made sure that like its function, Mirra 2 could also be visually personalized, by allowing users to pick from a variety of color options, textiles, base finishes and more.
Choose Embody if…
You're looking for the most advanced ergonomic comfort available in an office chair; are guilty about the number of hours you spend sitting at your desk; experience office syndrome, chronic back pain or spinal health problems; or if you're just ready to invest in your health. Designed with the input of more than 30 physicians and PhDs in related fields, Embody sets a new benchmark for pressure distribution, natural alignment and support for healthy movement. This is the chair most ergonomists and workplace health and safety teams frequently recommend for those with the most challenging back issues.